Manchester entrepreneur Chloe Barrett creates 'Netflix for Education'
EdTech
The days of projectors and hectic recordings in lecture halls are long gone.
Lessons can now be conducted remotely; access to resources is carried out electronically; apps and websites can help in areas such as exam preparation; and there are platforms offering access to digital textbooks.
However, the potential for transforming the modern learning experience with technology is just beginning to be realized.
"Education is a very dispersed segmented market right now," Chloe Barrett, CEO of Immersify Education, tells BusinessCloud. "There is no platform that allows you to access everything in one place: information, seminars, lectures, reruns, testimonials.
"We want to combine all these resources on one platform. We aim to become a popular platform for educational resources: "Netflix Educational Content".
As a dental student, Barrett was frustrated by the lack of content and resources that made learning fun and interactive. Later, while developing a network of dental schools, she noticed a gap in the market for a platform that bridged the theoretical and practical elements of dentistry.
In 2018, she joined forces with CTO Maxwell Boardman to found DigiDentistry with the goal of bringing interactive technologies such as augmented reality, 3D animation, personalization and gamification to the learning process.
IN4 Talent – your unique talent ecosystem
Rebranding
The startup was renamed Immersify Education when it realized the true growth potential outside of dentistry. The company's next focus is nursing, followed by civil engineering, mechanical and electrical engineering. Then it is planned to engage in the automotive and aircraft industries.
"We're partnering with publishers, but breaking that content down into more digestible written, audio, and visual information," explains Barrett. "This is suitable for all areas of study and means you don't have to leave the platform to find, for example, an informative YouTube video or read a book on the topic. It's all in one place."
She adds: "A student with dyslexia recently told us that the app was amazing and helped her get a really high grade. Before that, she used books and struggled a lot: she said that the platform allows her to learn visually, which is perfect for her. I love that kind of feedback."
Co-founder Boardman demonstrates how a student can be asked to find nine problems with a randomly generated set of teeth – a form of gamification to engage the user – while they can use their phone as a "dentist's mirror" to examine their mouth.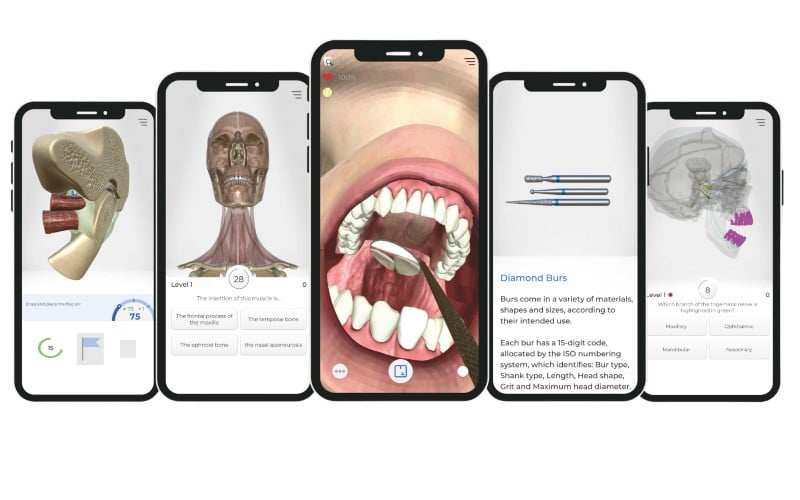 "The platform is built with user experience in mind," he says. "What distinguishes us in the market is our personalization: we do not just provide professionally written theoretical content with immersive 3D visuals, but also enrich the topic with experience.
"Each individual user will see different content depending on what they are interested in or experience.
"In the latest version we're building, you go through the whole process, like choosing an instrument and then using it on a patient. These scores can be used by insurance companies to assess risks or to better understand the quality of clinicians when hiring."
The Immersify Dental platform is built into curricula. Barrett led pilot studies at eight universities in France, Germany and the Netherlands, producing multilingual translations of his content after receiving European funding. British accents were also included.
IN4 Talent aims to fix a 'broken' hiring model
Service Subscription
The commercial platform is currently used by tens of thousands of dental students, predominantly in the UK, US, Australia and India. Queen Mary University and Cardiff University are among the institutions currently offering it to students, and the app is used in a total of 142 countries.
The recent launch of paid content subscription, available to all dental students at £8.99 per month or discounted throughout the year, could be a game changer before Immersify expands to new items.
"We're going to provide fresh, updated content every month that will stand out in a personalized way—that's why we call it 'educational Netflix'," explains Barrett, who aims to reach 100,000 users by the end of the year.
"We have a community of 300,000 people, but they sit on social platforms a lot: now we are transferring all this to the platform itself.
"We have seen a huge amount of downloads and popularity of our offer during COVID, amid the push to move everything online. We ranked third on the Google Play Store in the Education category and the trend just kept growing and growing."
The company moved to premises in Manchester to accommodate growth, but prior to the pandemic it was based at The Landing, a technology hub in MediaCity, Salford, which was renamed HOST – Home of Skills & Technology last year when IN4 Group took over. work.
IN4 Talent partnership
The company works with a recruitment agency IN4 Talentled by Andy Almond to find the talent they need to thrive.
"Talented Partner" has successfully brought over 10 technical, creative and marketing professionals into the business as it has grown.
"I was looking for someone to help us with recruiting as we grew because I had done a lot of recruiting in the past and it was very time consuming," says Barrett. "Finding the right people is very, very important – people help you build.
"When I met Andy, I felt it was a good fit: IN4 Talent was a startup like us and growing as well, while their team had a lot of people who are very experienced in building and networking in this technical area.
"Our head of development came from IN4 Talent: we had to make sure we found the right candidate because it was really important that Max could outsource some of the development work and bring in people with special skills to complement what he can do.
"As we raised investments, we looked for support in the growth of the team: IN4 Talent were efficient and we enjoy working with them. We are building good relationships."
Don't Make the Mistake of Hiring Based on Skills Only
She adds: "We're growing and we don't have the same budget as a corporation that could probably pay three times as much, so we introduced share schemes to make sure employees can get a stake in the company. It is important for us to keep the staff, and as soon as we find good team members, we want to keep them.
"The great thing is that the team goes out together on the weekends, so they also make friends. As we grow as a company, it's very important to make sure we have the right people and keep track of that. I feel like IN4 Talent is taking care of finding the right team members for us."